Discover more from Takhleeq
Essays on Design, Technology and Art of Pakistan
T002 - Pakistan's Digital Divide - Pt 2
On how internet censorship has hindered growth of the country's technological ecosystem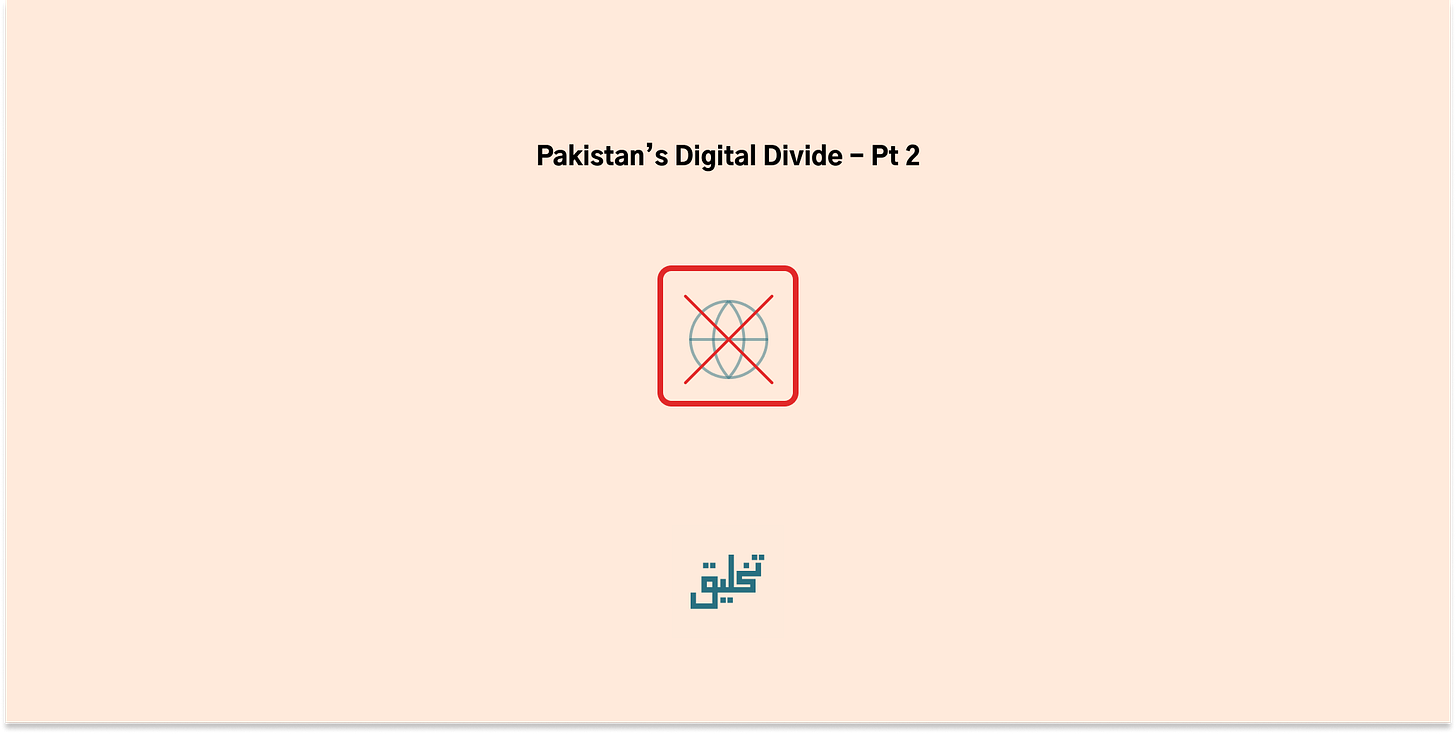 The second part is a continuation of the previous post where I shared my thoughts on the origins of tech in India and Pakistan, then continuing to write about how Digital Pakistan faces various complex challenges to address in mobilizing tech.
In this section, I will talk about internet censorship particularly and how it is one of the biggest hurdles for the growing tech ecosystem.
---
When Aurangzeb of the Mughal Era rose to power after countless battles over succession, the once powerful dynasty started to see fractures in its dominance. Foreign invasions led by Nadir Shah and Shah Abdali may have left the empire in shambles, but it was internal rife among the nobles and leaders that started the beginning of the end for them.
For Naya Pakistan, the past two months have shown that the country is not far off from experiencing the same déjà vu that befell the great dynasty.
The last two weeks have been eventful for our digital economy, potentially taking a turn for the worst. Internet watchdogs have been cracking down digital media hosting anti-state, anti-Islamic or lewd content. Last Wednesday saw Tania Aidrus' untimely resignation from the position of SAPM¹, shocked the tech community who had hoped for her to finally lift Pakistan's tech ecosystem from the trenches.
A brief summary of events we saw in a month's time – PUBG; an open-world shooting game, got banned on the premise that it was impacting the mental health and productivity of the youth. Next, a blanket ban was imposed on TikTok because of obscene content that went viral. Next, the PTA dispatched a flurry of legal notices to businesses using VPNs, to immediately register them or run the risk of facing heavy legal action. A few weeks ago, rumors spread around of another YouTube ban but that never came to pass till now. Most recently, startups claimed that Amazon Web Service (AWS) was experiencing a lag, some suggesting that PTA had something to do with it.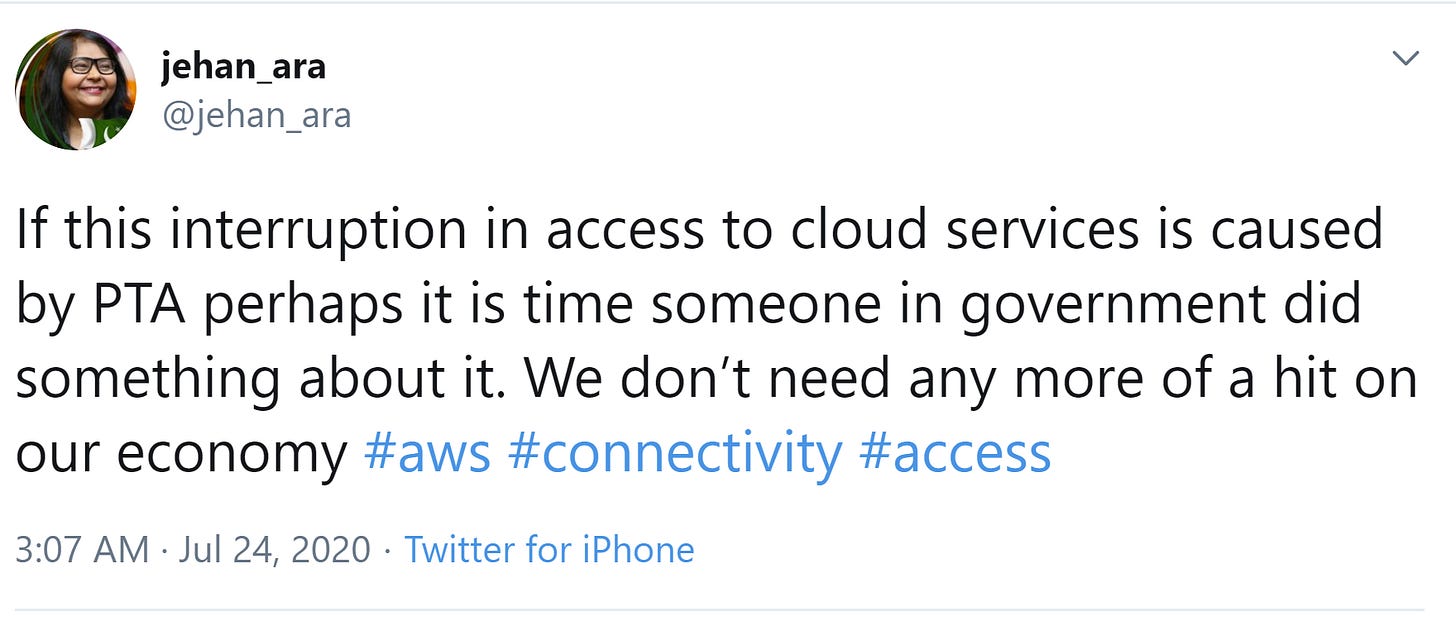 With all these events happening at once, the vision of achieving digital transformation feels like a Sisyphean task to accomplish considering there is no one to steer the ship.
On Blocking Digital Platforms
🛡️
Pakistan's history with internet censorship is common knowledge among its internet driven citizens. The freedom of how we use the internet remains an ongoing issue that has stalled the country's goal to achieve technological prosperity.
Putting bans on digital media has deep repercussions, to point out a few:

a) Citizens effectively get shut off from the outside world
b) Big tech firms back out from future negotiations to expand operations
c) Growth of digital economy and internet-based businesses slows down
d) Digital literacy is hampered due to restricted access to information
e) Fear of collective action and/or expression
The fourth industrial revolution calls for shifting from analog systems to fully computerized ones, backed by some Artificial Intelligence, with Millennials and Generation Z to experience the full force of its effects.
How social media apps are used is amazing. It breaks down socio-economic barriers and people whether they are situated in urban metropolis or in rural hinterlands, the consumption of content does not slow down. Even Tiktok has empowered the less privileged to showcase their talent to a massive user base.
Point is, there are limitless possibilities when such powerful apps are available for us!
Platforms such as Facebook, Instagram, YouTube and TikTok currently present a rising demand for "Uber for X" markets, forming the "passion economy" where individuals can now start a business or brand with a click of a button².
Environment-friendly bamboo brushes, vegan cup-cakes or biodegradable wedding cards? All of these unique products are a result of the socially conscious demands of users. Software today is so much more sophisticated that artists, innovators and creators can focus on the important part of their business: the product itself.
Remember how we experienced a surge in our tourism industry in 2016, post-YouTube ban? That year saw rise of vloggers, posting super high-quality videos that were viewed by millions. Those views mainly came from other parts of the globe. These very videos helped establish Pakistan as an emerging travel destination; culturally rich and safe.
This positive trend could be said to be an accidental one. No deliberate effort was put by the government as they were late to catch the wave. It was really the passion and curiosity of the youth to experiment with new technology that shifted the tide in our favor.
Imagine the good that would've come if YouTube hadn't been banned?
Timeline of Internet Censorship (2008-2019) 📅
In retrospect, the story of internet censorship is about two groups embroiled in a never-ending tug of war. On one side, you have the advocates of tech – the visionaries, resident entrepreneurs and the diaspora in the west willing to lend their support while on the other you have a group who are more conservative in nature and have a far reaching influence on internet censorship.
Having said that, when officials warned of a potential ban on Youtube, people were quick to recall the vivid memories of the 2008 DNS tampering incident that broke the video sharing site. Major news outlets such as The New York Times and TechCrunch documented the incident³ that its common knowledge, especially among the youth.
This is what happened:  The PTA authorized its partnered ISPs to block Youtube's IP in response to an Islamophobic film created by dutch political figure. The plan was to create dummy router to redirect traffic to a black hole, so entering the site's name would result in a "page not found" error message.
Things got interesting when PTA decided to share the IP to one of their providers, PCCW based in Hong Kong. The firm further propagated the IP to internet providers worldwide. The Border Gateway Protocol, the system that selects the route to the website, was wired in a way to favor more specific IPs; hence, it selected the one coming in from Pakistan. The rest, you can probably figure.
The graph shows the disruption lasting about 2 hours before returning to full capacity.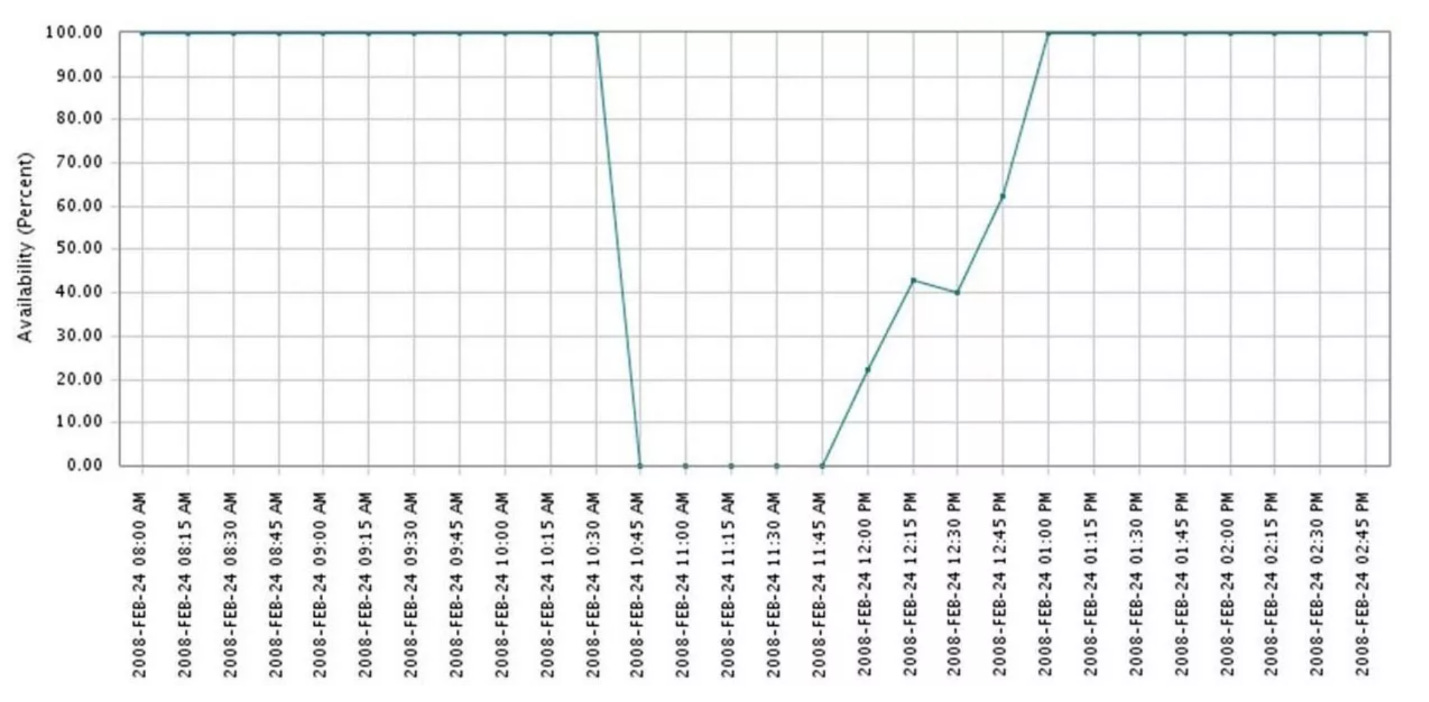 The 2008 incident began a tussle between big tech and Pakistan's leadership to gain control over what content to allow. The relationship with Google worsened when an infinite ban on YouTube was placed that lasted between 2012-16. Immediately, the MoIT announced a call for a national URL blocking system that could handle a list of 50 million URLs and the ability to flag specific domains and content.
4 years is a long time; and luckily, the internet generation were quick to figure out alternatives or even create them, case in point Ytpak.com, which was one innovation that sprang out as a result of the ban. The site would go on to enjoy high user volume, peaking at 175,000 on a single day⁴.
For those who felt a little overzealous, VPNs like Hotspot Shield were used to access blocked websites. Since the laws of the Internet have never been strictly implemented anyways, most internet users would not have to fear facing legal charges.
While these events were unfolding, let's not forget that Facebook has also been subject of heavy censorship.
In 2010, an online contest to draw Muhammad enraged the Islamic community and the crowd took to the streets appealing the leaders to shut down or at least take steps to remove the content. In Pakistan, the Lahore High Court ruled a 2 week ban on the social media website as a show of protest.
The next time the app was targeted was quite recently In 2017, protests initiated by the radical Tehreek-e-Labaik group was quickly turning into volatile situation, flexing the government to impose a blanket ban on Facebook and Twitter for a day, to curb growing unrest⁵.
During the many instances of censorship, members of "Bolo Bhi" and Digital Rights Foundation; have been at the forefront against the barring of online media, fighting for freedom of online expression and have been successful in keeping the government at bay to impose further bans.  
What Do The Numbers Tell Us? 📊
The numerous accounts described above are not seen as favorable in the eyes of Big Tech. They understand that the lack of internet freedom and weak legal policies are not conducive for their operations. It makes complete sense if they refuse to open shop in Pakistan considering the scrutiny platforms have to face.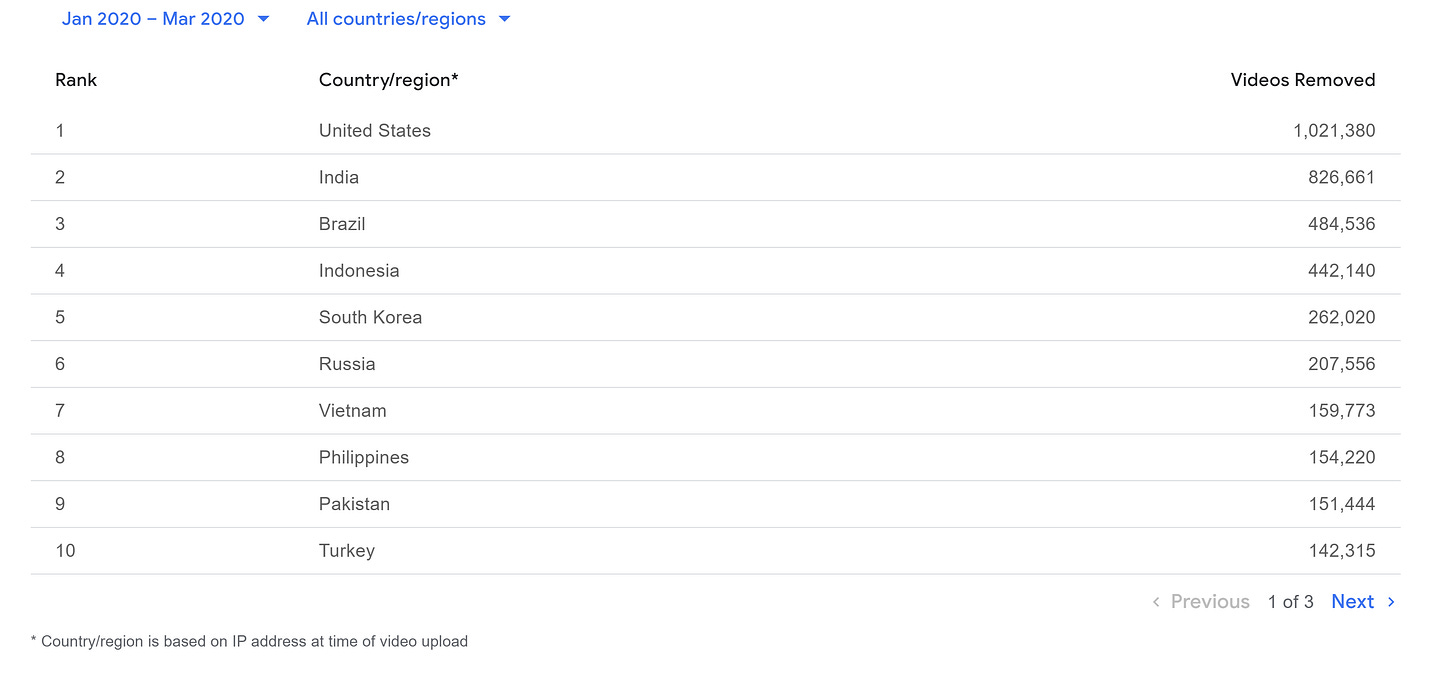 YouTube's publishes its annual transparency report that ranks Pakistan 9th in terms of number of videos requested by the government to be removed, standing at 151,444 to date⁶. On closer inspection of the data, we can cite reasons of why those specific content were requested.
Years 2016-2020 show that most of the content posed a potential threat to national security for the country. Simultaneously, a trend since 2011 has been the removal of videos that were intended to defame a figure, possibly of religious or political importance.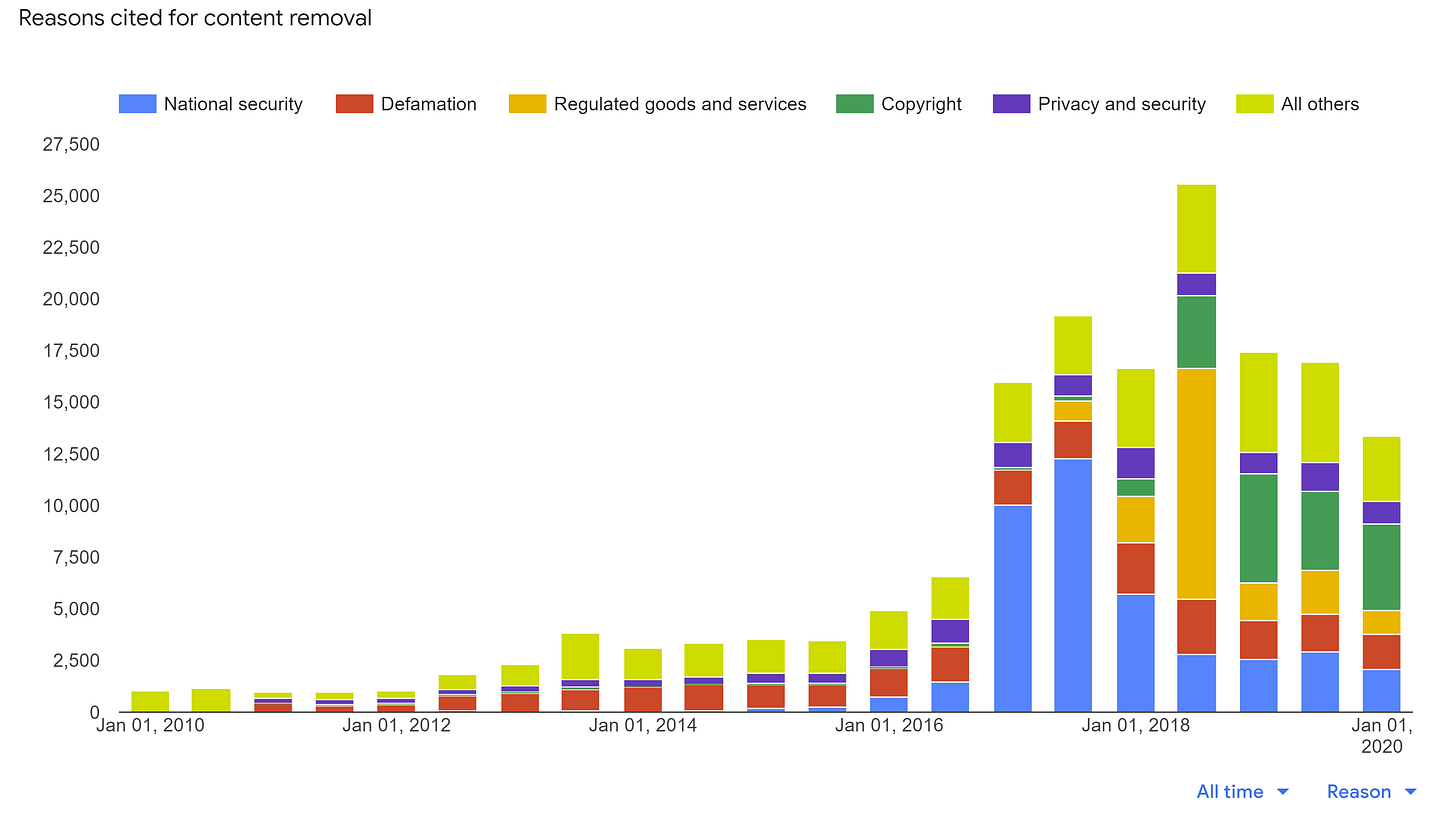 Facebook has received around 14900 requests⁷ to remove controversial content since 2014. The company has actively complied by approving an average of 60-65% of requests which is quite significant considering Twitter has declined most requests demanded by the government⁸ (156 requests combined from 2012 to 2017).  
With regard to blocked websites, there are 210 URLs which are currently blacklisted⁹ mostly linked to pornography, religion, circumvention tools and human rights. As such there are no plans to lift them.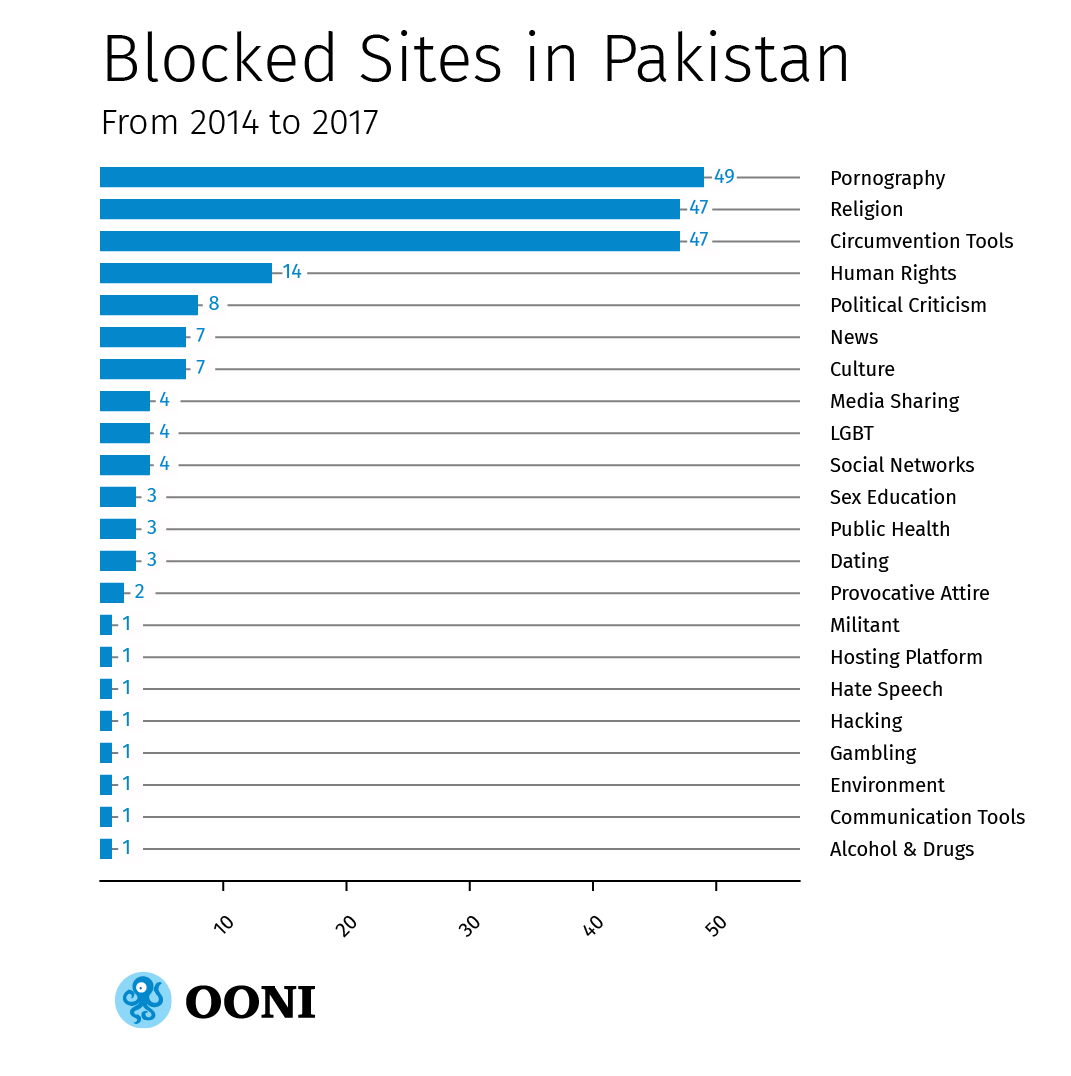 It important to note though that all such attempts to block websites are responses stemming from emotion rather than rationale. There are other serious technological challenges that need to be prioritized—fake news dissemination, identity theft or selling personal data to big corporate.
Especially when there is a pandemic in our wake, we want our information to be correct rather than rely on forwarded WhatsApp messages.
Conclusion: A What-if Scenario?
🤔
Assuming the state and judiciary remains resolute with the ban, what can we optimistically expect to happen and what opportunities will arise that can still put us on the path to embrace digital?
a) Mobilization of talent with range of skill set, not specific to engineering and IT
b) Emergence of new platforms that benefits Pakistan's greater demographic
c) Chinese tech conglomerates facilitate building their tech infrastructure
d) Incubators call for new ideas and onboard greater number of startups.
However, these are simply conjectures and what-ifs.
Adapting to post-corona world has already been a big ask but adapting within a heavily surveilled society can prove to be detrimental and recovering from it will take a big chunk of our time.
So, as these events continue to unfold, we have to remind ourselves of an era not so long ago, when at the time the press and the television were subject of heavy surveillance and control. Let's hope we do not get to see such times.
---
Footnotes
[1] https://nation.com.pk/29-Jul-2020/tania-aidrus-resigns-as-sapm-on-digital-pakistan
[2] https://a16z.com/2019/10/08/passion-economy/
[3] https://www.nytimes.com/2008/02/26/technology/26tube.html
[4] https://tribune.com.pk/story/846166/sanction-saga-a-compliant-alternative-to-youtube
[5] https://www.dawn.com/news/1320650
[6] https://transparencyreport.google.com/government-removals/by-country/PK
[7] https://transparency.facebook.com/content-restrictions/country/PK
[8] https://www.reuters.com/article/us-pakistan-twitter/twitter-warns-pakistan-rights-activists-over-government-criticism-idUSKCN1NH1JD
[9] https://ooni.org/post/pakistan-internet-censorship/#key-findings
---